Events
Virginia Minor and Her Major Role in Women's Rights
Thursday, March 16, 2017, 7 p.m.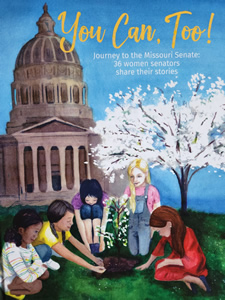 Diane Eickhoff and Aaron Barnhart, authors
In 1872, cofounder of the Woman Suffrage Association of Missouri, Virginia Minor, marched to the office of her St. Louis city ward registrar demanding she be registered to vote. Unswayed by her argument that the Fourteenth Amendment granted women this right, the registrar turned her away. Virginia and her lawyer husband sued, eventually taking her case all the way to the U.S. Supreme Court. Although her argument ultimately failed to persuade the justices, and woman suffrage did not become a reality in Missouri until the passage of the 19th Amendment in 1920, Minor continued to fight for women's rights until the end of her life in 1894. Historian Diane Eickhoff and her husband Aaron Barnhart, former writer for the Kansas City Star, will share Virginia Minor's inspiring story, recounting how it fits into the larger narrative surrounding woman suffrage in Missouri.
---
Programming at the Missouri State Archives is free of charge and open to the public, with seating available on a first-come, first-served basis. For more information contact Emily Luker at (573) 526-5296 or emily.luker@sos.mo.gov.